Free Next Day Delivery
When you spend over £50. Learn more
Open An Account
Register here
Need Help?
Chat with our staff for expert advice on 01234 333949
Next Day Delivery
Order Before 3pm | Delivered by APC Overnight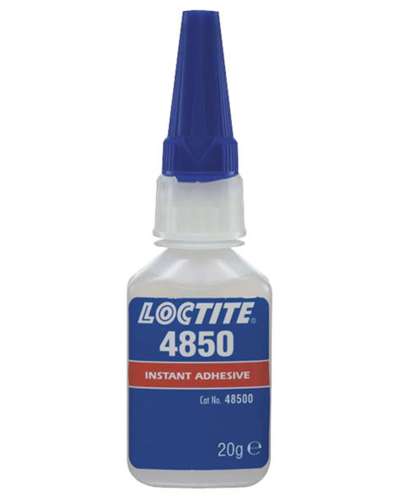 Loctite 4850 Flex Adhesive 20G Low Viscosity
Available on backorder Product Code: W26842
Instant Adhesive - flexible and bendable. Low viscosity. Ideal for use on porous and adsorbent substrates and acidic surfaces. LOCTITE 4850 is an instant adhesive designed for the assembly of difficult-to-bond materials and is specifically formulated to provide flexible bond lines. It is a low-viscous product that provides for the rapid bonding of a wide range of materials, including metals, plastics and rubbers. When used to bond rubbers, for example, this product ensures retention of the full compressibility of the joint. LOCTITE 4850 is also particularly suited to bonding porous or absorbent materials such as paper, leather and fabrics.
Your benefits
Instant, flexible adhesive
Low viscosity
Bonds a wide range of similar or dissimilar substrates (metals, rubber, wood, cardboard, ceramics as well as most plastics)